2811 Front Street, Cuyahoga Falls, OH
Monday through Wednesday 4pm-9pm
Thursday 4pm-10pm
Friday 2pm-11pm
Saturday 12pm-11pm
Sunday 11am-8pm
Sunday Brunch 11am-2pm
Missing Mountain Brewing Company (MMBC) is a Cuyahoga Falls brewery sitting on the banks of the Cuyahoga River. We are committed to providing the local community and visitors an atmosphere to celebrate and enjoy the beauty of Cuyahoga Falls with great beer and great food. We are a smoke free facility inside as well as our patio but do offer designated areas for smoking outside our establishment.
Open seating throughout our establishment where all drink and food orders are placed at the bar
Gift cards and merchandise purchases available- inquire with our bartending staff.
Friendly dogs kept on a short leash are always welcome on our outside patio also!
Missing Mountain Brewing Company was founded by Dave Bertolotti, Keith McFarlane, Danny Yagersz and Dan Kephart (not pictured). We homebrewed together since 2008; scaling up from a 1/6th barrel (BBL) homebrew system to a commercial quality 1 barrel brewhouse. As homebrewers we entered various homebrew competitions that were scored by ranked beer judges and honed our skills. Our greatest homebrew accomplishment was being the Best of Show winner at the 2015 Weasel Boy Brewing Co. homebrew contest. This allowed us the opportunity to collaborate with Weasel Boy on an entry into the Great American Beer Festival's Pro-Am category, which advanced to the second round of judging.
In 2011, our passion for brewing led to discussions of opening a commercial brewery, choosing our name, and our logo. We chose our name, Missing Mountain, to reflect our love for winter sports and the outdoors. As Northeast Ohioans, we love our region and all its fantastic outdoor opportunities. We have rivers, valleys, a National Park, great regional and local parks, and Lake Erie. As avid snowboarders and skiers, we feel the only thing that is missing is a mountain.
In 2016, Missing Mountain Brewing Co. was offered the opportunity to build our vision on a one of a kind property overlooking the Cuyahoga River by landowner Al Klaben. We decided to take the plunge and began the process of realizing the dream of opening a brewery.
Throughout the next year and half we rolled up our sleeves alongside Al, contractors, and friends and built several key structures on the property, including the brand new brewhouse.
After many months of hard work, construction, and remodeling we opened our doors to the public on June 9, 2018. We invite you to come and enjoy the natural beauty of Northeast Ohio on our patio overlooking the Cuyahoga River, in our three-season room, or inside our taproom. Nearly everything you see has been built or remodeled by people that believe Ohio is a great place to share great beer with great people.
Missing Mountain strives to provide a large selection of beer styles without compromising on quality. Our beers are bold and flavorful yet remain balanced. We brew conventional styles but also pursue innovation and experimentation. Growler fills and Crowler can purchases are for off-site consumption only. Follow us on Untappd in order to receive up to date notifications for all new beer releases and events!
Missing Mountain Brewing Co. menu consists of various hot and cold appetizers, salads, pizzas, sandwiches, wraps, and items from the smoker that incorporate the use of local and organic ingredients whenever possible. Vegetarian, vegan, and gluten free options are available, but we do not have a dedicated kitchen for these options.
In addition to Missing Mountain beers, we have other alcoholic and non-alcoholic beverages such as Mexican Coca-Cola and Mexican Sprite by the 12 oz bottle. For vino we offer a variety of red and white wines by the glass or bottle as well as liquors including vodka, rum, tequila, gin, bourbon, and scotch. For mixers we are offering Fever Tree's Club Soda, Fever Tree's Tonic Water, Mexican Coca-Cola, and Mexican Sprite.
We do offer special menu items during certain times so please be sure to check our social media sites for any updated food item offerings! Sunday brunch menu available between 11am-2pm.
Our 10 barrel brewhouse features equipment made by Portland Kettle Works in Portland, Oregon and is showcased in a second building located right next door to our taproom.
Some of our craft beers are available on tap in establishments around the area. If you are a restaurant or bar interested in having Missing Mountain Brewing Co. beer on draft at your establishment please feel free to inquire with Matt directly at matt@missingmountain.com.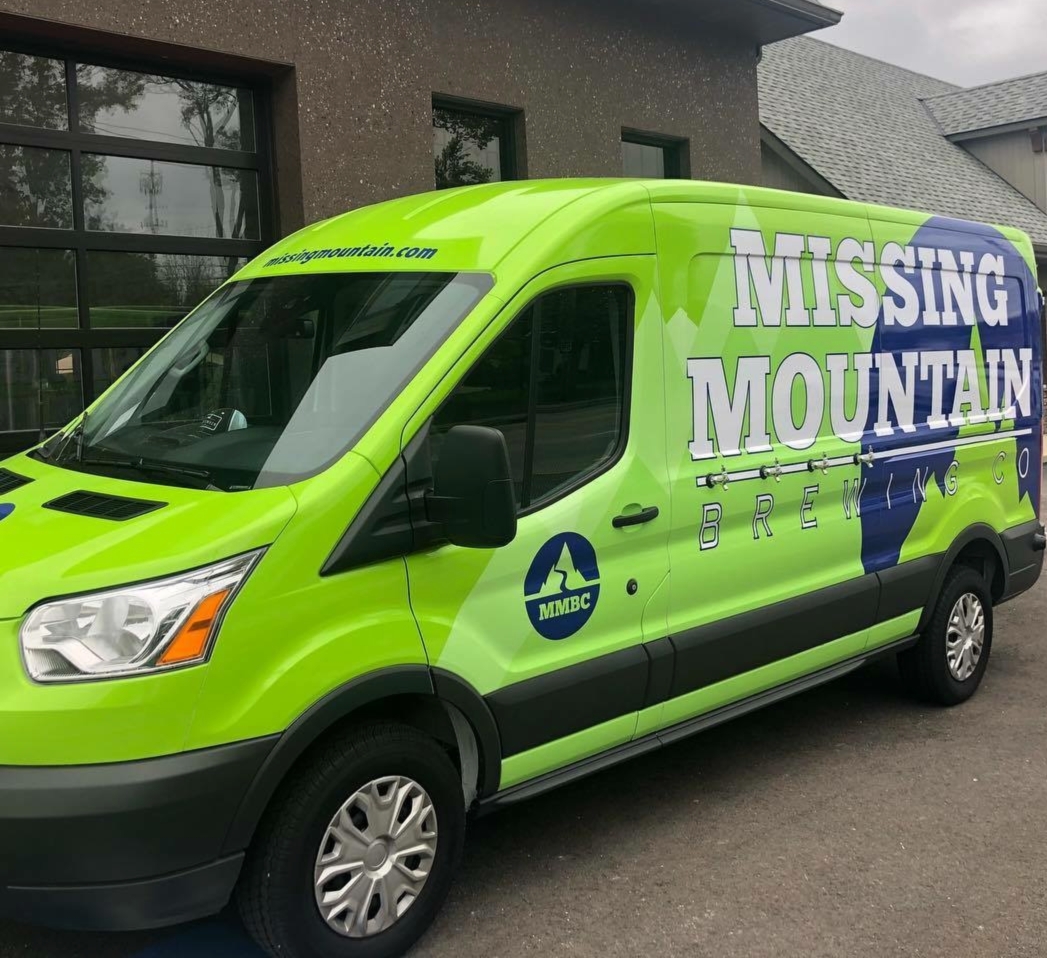 LOCATION & CONTACT
LOCATION
2811 Front St
Cuyahoga Falls, OH
Mon-Wed 4pm-9pm
Thursday 4pm-10pm
Friday 2pm-11pm
Saturday 12pm-11pm
Sunday 11am-8pm
Sunday Brunch 11am-2pm
Monday through Friday after 6pm and on weekends, guests are allowed to park in the pictured lot behind Pekar Music. We ask that you please respect this property and understand that you are an extension of us. So far this is the only parking lot we have been approved to utilize, so please respect our neighbors and signage. Thanks!
Contact Us
Interested in having us host a private party for you? Contact us via this form or one of the social media links below. For anyone interested in having MMBC beer on draft at your establishment please email Matt at matt@missingmountain.com.